GREEN IMPULSE, the precursor and specialist in biocontrol synergists for plant protection, launches "KITAE" its first technological reference for sustainable crop protection
2 December 2019,
While waiting for the launch of its Bio-control Synergist, GREEN IMPULSE proposes its first Plant Defence Stimulator (PDS) product which will be presented at SIVAL 2020, and nominated in the "inputs, crop protection" category at the SIVAL innovation competition. This new reference is an additional technological brick to enable producers to significantly reduce the use of copper and synthetic fungicides in the treatment of crop diseases and thus give full satisfaction to market gardeners and vegetable growers, especially carrot growers, a crop on which "KITAE" is particularly effective.
https://www.sival-innovation.com/kitae/
GREEN IMPULSE was founded at the beginning of 2019 in Angers by Alexandre OLIVAUD and Emmanuel PAJOT, both experienced in the field of bio-control and crop protection. The technology being developed is the result of many years of research carried out by the IRHS (FUNGISEM team) and SONAS (University of Angers) laboratories based at the heart of the Campus du Végétal. These 2 laboratories are respectively specialists in plant pathogenic fungi and natural substances, mainly of plant origin (extraction-purification, analysis, synthesis, biological valorisation). GREEN IMPULSE is developing this patented technology through the acquisition of an exclusive operating licence in partnership with SATT Ouest Valorisation.
Fungi are responsible for 80% of the diseases known to date in cultivated plants and cause production losses of around 15% on a global scale. The fight against these fungal diseases is essentially carried out through the use of synthetic phytosanitary products (fungicides). Crop protection is set to evolve towards new strategies that no longer rely solely on the use of pesticides. In this context, GREEN IMPULSE is committed to the development of new strategies to combat plant pathogenic fungi in order to improve the performance and rapid deployment of alternatives to fungicides, particularly bio-control products.
This commitment by Green Impulse is reflected in the development of a new technology, "Synergists", which consists of weakening pathogenic fungi, without killing them, in order to make them more sensitive to the plants' natural defence responses (plant immune responses). Thus, all protection strategies based on the plants' natural ability to defend themselves (e.g. tolerant or resistant varieties, Plant Defence Stimulators, PDS) associated with GREEN IMPULSE's Synergists, will be more effective and sustainable in controlling the development of diseases in agriculture.
To accelerate the industrial development, the intellectual protection and to obtain the European marketing authorisations for its first biocontrol Synergist, GREEN IMPULSE has recently raised €1M (see press release 12 Nov. 2019). This fundraising has already enabled the company to validate the recent hiring of its first doctoral employee, Ophélie DUBREU, as part of a CIFRE agreement with its partner laboratories in Anjou (IRHS, SONAS, MINT). GREEN IMPULSE also aims to participate in the major national innovation competition I-Lab in January 2020 with the hope of winning this competition and proudly representing the Pays de la Loire region.
* Synergist: Substance or preparation reinforcing the activity of the active substance(s) present in the plant protection product(s).
Alexandre OLIVAUD, co-founder of GREEN IMPULSE: "Together with Emmanuel, we are proud to be able to present our first "KITAE" reference at the SIVAL 2020 innovation competition and we hope to meet French wine growers and market gardeners on our stand to convince them of the many advantages of integrating this reference into their technical itineraries.
Emmanuel PAJOT, co-founder of GREEN IMPULSE: "This first product, born of a long-standing relationship with the manufacturer of this product, a recognised expert in its field, is in line with our strategy of bringing to market robust, effective and accessible products that will gradually reduce our agriculture's dependence on copper and conventional fungicides.
Contact GREEN IMPULSE: Alexandre OLIVAUD, President and co-founder, 06.99.24.67.99
SIVAL stand number: GRAND PALAIS I 609
Thomas GUILLEMETTE, Member of the FungiSem Laboratory (IRHS Angers): "The "Synergist" concept stems from several years of fundamental research conducted in close collaboration with the SONAS laboratory and strongly supported by the University of Angers. This work led to the filing of a patent and then benefited from maturation support from SATT Ouest Valorisation. The collaboration with GREEN IMPULSE will enable us to finalise the development of these crop protection products and is a good example of the complementary nature of the expertise of companies and academic laboratories.
About the FungiSem research team (IRHS Angers)
FungiSem is a team belonging to the Institute of Research in Horticulture and Seeds (IRHS) located on the Campus du Végétal and bringing together research staff from INRA, the University of Angers and Agrocampus Ouest. Fungisem has expertise in microbiology and molecular biology dedicated to the study of plant-pathogen interactions with a view to developing innovative crop protection methods.
Vincent Lamande, President of SATT Ouest Valorisation
"The arrival of an eco-responsible product on the bio-control crop protection market is a great source of pride for SATT, which has been supporting the research teams (IRHS, SONAS and MINT) based at the heart of the Campus du Végétal for many years in their research work.
About Ouest Valorisation
Since 2012, SATT Ouest Valorisation has been working every day to act as a bridge between public research and the socio-economic world. It simplifies and professionalises the transfer of innovations from French academic research to companies. SATT Ouest Valorisation's teams, which are attentive to the needs of public research laboratories in Brittany and Pays de la Loire and of companies, offer a complete and tailor-made range of services.
http://www.ouest-valorisation.fr/
Contact Ouest Valorisation 
Bruno Westeel // Responsable Marketing & Communication
bruno.westeel@ouest-valorisation.fr / 06 18 70 31 91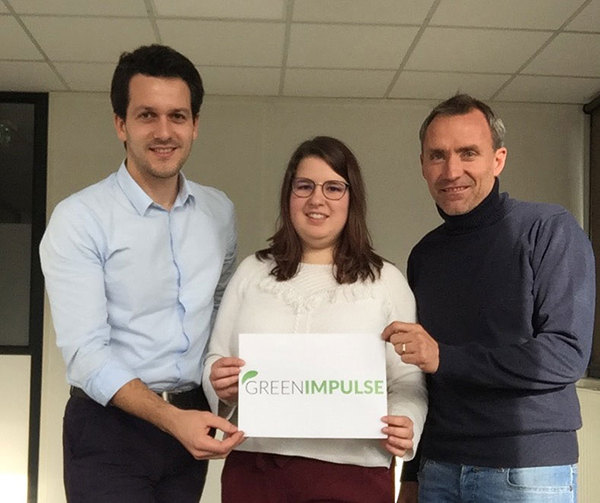 From left to right in the photo : Alexandre OLIVAUD, Ophélie DUBREU and Emmanuel PAJOT.
Photo of the two founders of GREEN IMPULSE, Alexandre OLIVAUD & Emmanuel PAJOT
Photo credit: Courrier de l'Ouest